Elon Musk & Lisa Prank Fight Over Farting Unicorn Drawing
Robin Edwards is a Seattle musician who records sharp, catchy, really good pop-punk music under the name Lisa Prank. Her dad, Tom Edwards, is the Colorado-based artist and potter behind Wallyware Pottery. Elon Musk, Grimes' new boyfriend, is the CEO of Tesla and SpaceX and a billionaire. All of these people are currently fighting over a drawing of a farting unicorn.
How did this happen? You see, since 2010, Tom Edwards has been selling a $28 mug that features an illustration of a unicorn farting into a tube to power a small car. "Electric cars are good for the environment because electricity comes from magic," reads the text on the back of the mug. In February 2017, electric car maker Elon Musk tweeted a picture of the mug and declared that it might be his "favorite mug ever." The attention gave Edwards' a bump in sales from around the world, and at first, all was right with the universe.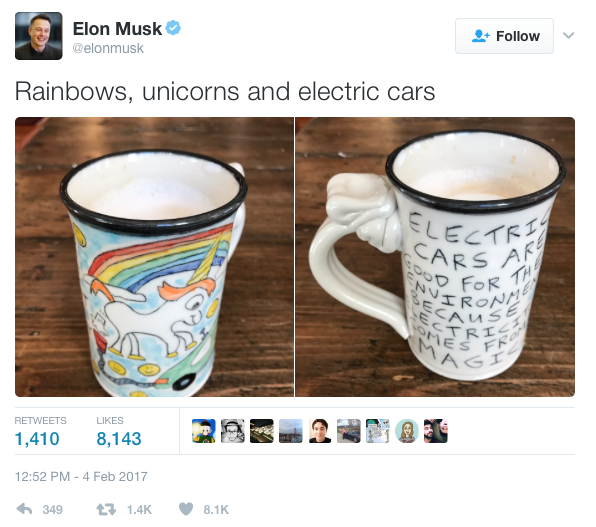 Flash forward to a month later, when Musk was introducing Tesla cars' new sketchpad feature, which allows drivers to draw on the cars' touchscreen via an app. What did Musk tweet to promote the new feature? A copy of Edwards' farting unicorn drawn on the Tesla sketchpad app.
At first, Edwards was going to let it slide, but then he found out that the image also appears as the icon for the app in Tesla's operating system, and the company had even used it in a Christmas card holiday message to Tesla owners. "It's part of their branding now," Edwards told The Guardian in an interview yesterday. "I love the fact that it's in the cars, but I just want them to do the right thing and pay me adequately for it. Elon Musk can be a hero for standing up for artists' rights."
So Edwards hired a lawyer to send a letter to Tesla's general counsel. "Please don't take this as a shakedown," the attorney wrote. "What we are seeking instead is a discussion, and a mutual decision in a way to value the past and continuing use of the image, in a way that both sides can feel good about."
Months later, after hearing nothing back, Edwards gave an interview about the incident with the local Denver paper Westword. And when his daughter, Robin Edwards of Lisa Prank, tweeted a link to the story at Elon Musk, they got into it on Twitter. "Have asked my team to use a diff example going forward. He can sue for money if he wants, but that's kinda lame," Musk tweeted at her in response. "If anything, this attention increased his mug sales… How much money does your Dad want for this terrible transgression?"
He also claimed that the image was "chosen randomly by software team as a joke (they didn't tell me in advance)" and offered to "change it to something else if your Dad wants." Musk has since deleted all of his tweets, including the original tweets about the mug from 2017. But you can find Robin Edwards' tweets below. And you can still find the farting unicorn image in every single Tesla car.
hey y'all Grimes' boyfriend ripped off my dad's art! this is a true story! what do you have to say for yourself @elonmusk ?? https://t.co/TMMJAS1ZGM

— Lisa Prank (@lisaprank) June 26, 2018
Your company has been using his creative property for a year without credit or compensation—don't you think artists deserve to be paid for their work? Maybe you can respond to the letter his lawyer sent you & you guys can work something out

— Lisa Prank (@lisaprank) June 27, 2018
It's a direct copy of his work. And every element that goes into building the Tesla financially benefits you.

— Lisa Prank (@lisaprank) June 27, 2018
it was also sent out in Tesla Christmas promotional material. You used it to add to your brand

— Lisa Prank (@lisaprank) June 27, 2018
it's a copyright issue of stolen intellectual property—I'm not sure exactly what he wants! Maybe whatever wage you normally pay graphic designers to come up with content for you? The person to discuss this with is his lawyer, who sent you a letter you didn't respond to

— Lisa Prank (@lisaprank) June 27, 2018
I have so much to cry about to my therapist about that I didn't even get into tech bros harassing me on Twitter!

— Lisa Prank (@lisaprank) June 27, 2018
if you wanna support my dad's work directly, here's a link to his pottery: https://t.co/FAntWRTz1W https://t.co/nQJLh55j1n

— Lisa Prank (@lisaprank) June 28, 2018
how did you offer to pay him? I just texted my dad to ask about it and he said that wasn't true

— Lisa Prank (@lisaprank) June 28, 2018
just talked to my dad and he said this isn't true? do you need me to dm you his phone number? https://t.co/J8IlDtoT48

— Lisa Prank (@lisaprank) June 28, 2018
Somehow, hilariously, J.K. Rowling and Vanessa Carlton have both gotten involved:
The spinoff you never knew you wanted. pic.twitter.com/NaE0n0c6C2

— J.K. Rowling (@jk_rowling) June 27, 2018
Elon! Be the hero! Not the villain! Send him a car! Farting unicorns are genius. Equal to your cars. This is a fair deal. Make it happen! x

— V a n e s s a C a r l t o n (@VanessaCarlton) June 28, 2018
Love you Vanessa, thank you ❤️ https://t.co/QlV2D3nby1

— Lisa Prank (@lisaprank) June 28, 2018
Can't wait to get my mugs! I paid in full! x

— V a n e s s a C a r l t o n (@VanessaCarlton) June 28, 2018
you're an angel!

— Lisa Prank (@lisaprank) June 28, 2018
Care to weigh in, Grimes?