Kanye Wasn't Kidding, Says Beck "Should've Given His Award To Beyoncé"
The best moment at last night's Grammys was an easy thing to miss; it was over in about a split-second. Beck had won the Album Of The Year trophy for Morning Phase, shockingly beating Beyoncé, among others. At least within my Twitter feed, the prevailing sentiment was something like whaaaaat? We were not alone. Kanye West stormed the stage, looking like he was about to grab Beck's mic away, in an echo of the Taylor Swift Incident at the 2009 MTV VMAs. But at the last instant, Kanye turned to the crowd and waved it off, smiling, returning to his seat without berating Beck or the Academy. Behind him, Beck called for him to come back. Beyoncé and Jay's reaction alone was a beautiful thing.
Kanye looked like he was kidding. He wasn't. Talking to the E! Network after the show, he said exactly how he felt about the whole Beck situation, explaining why he was mad and why he didn't actually interrupt Beck. Here's what he said:
The Grammys, if they want real artists to keep coming back, they need to stop playing with us. We ain't gonna play with them no more. 'Flawless,' Beyoncé video. Beck needs to respect artistry and he should've given his award to Beyoncé, and at this point, we tired of it. Because what happens is, when you keep on diminishing art and not respecting the craft and smacking people in their face after they deliver monumental feats of music, you're disrespectful to inspiration… We as musicians have to inspire people who go to work every day, and they listen to that Beyoncé album and they feel like it takes them to another place. Then they [the show's producers] do this whole promotional event, they'll run the music over somebody's speech, the artist, because they want commercial advertising. Like, no, we not playing with them no more. By the way, I got my wife, my daughter and my clothing line, so I'm not going to do nothing to put my daughter at risk but I am here to fight for creativity. That's the reason why I didn't say anything tonight. But you all know what it meant when 'Ye walks on the stage.
Here's video of him saying it. This was Kim's face: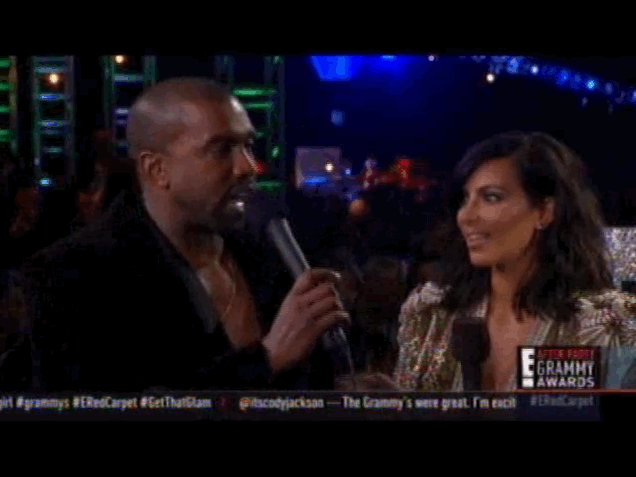 Kanye, in a not-playing-around mood, even went in on the E! Network's mic flag:
Who designed these mics that you see? I took the E! off my mic. Okay we know, it's gonna be E! already! It's gonna be E! at the bottom of the screen right here. We need to step up the taste level across the board on all networks. So you can see these outfits!… [To the hosts] They need you! Y'all are the personalities, E! needs y'all! The Kardashians have a percentage of E! That's what I'm saying, they need y'all!
As for Beck, he told Us Weekly this morning that he was happy to see Kanye walking towards him last night: "I was just so excited he was coming up. He deserves to be on stage as much as anybody. How many great records has he put out in the last five years, right?" Asked whether he thought Beyoncé deserved to win, Beck was just as humble and diplomatic: "Absolutely! I thought she was going to win. Come on, she's Beyoncé!" And when asked about Kanye's quote that he should've respected artistry, Beck said, "You can't please everybody, man. I still love him and think he's genius. I aspire to do what he does."
As far as Kanye stunts go, this whole thing was just masterfully pulled off. The onstage moment was fun, and and Beck seems to be taking all this as well as anyone could. But, I mean, come on. Beyoncé absolutely deserved to win, and the fact that she didn't is pure Grammy trolling, something we've seen too much of over the years.
Check out the full winners list from last night's Grammys here. Our rundown of the best gifs, tweets, Vines, Instagrams, and videos is here.