The Flaming Lips Seemingly Finalizing New Album Oczy Mlody
The Flaming Lips are still around, doing gimmicky things and making music with Miley Cyrus, but they haven't actually released a proper album since The Terror back in 2013 (not including 2014's Beatles tribute With A Little Help From My Fwends). But that might be about to change — through some good old fashioned detective work, The Future Heart has discovered that the band's new LP, which they've been working on since 2014, is seemingly called Oczy Mlody and close to being finalized.
Nothing's been confirmed, but George Salisbury, Wayne Coyne's partner for all Flaming Lips related visuals — album covers, music videos, live projections, etc. — posted a short video on Instagram's new "story" feature captioned "Gettin' close!!!!," showing some artwork and a list of five files, each labeled "The Flaming Lips – Oczy Mlody."
"Oczy Mlody" is Polish for "Eyes Of The Young," and it's a phrase that Coyne has been using as a hashtag on Instagram for a while now and that was in Steven Drozd's Instagram bio last month.
The five Adobe Illustrator files seen in Salisbury's Instagram story are:
The Flaming Lips – Oczy Mlody – GATE INSIDE 20
The Flaming Lips – Oczy Mlody – GATE OUTSIDE 20
The Flaming Lips – Oczy Mlody – DUST 1.19
The Flaming Lips – Oczy Mlody – DUST 2.19
The Flaming Lips – Oczy Mlody – DUST UNUSED 18
Presumably the "dust" files are the dust sleeve artwork and the "gate" files are the gatefold artwork, suggesting that "GATE OUTSIDE 20," the image shown in the video, is either the front or back album cover.
This, on the other hand, seems to be the art for the inside gatefold sleeve:
And the following image, which Wayne Coyne shared in June when deciding on fonts, seems to be the album's tracklist: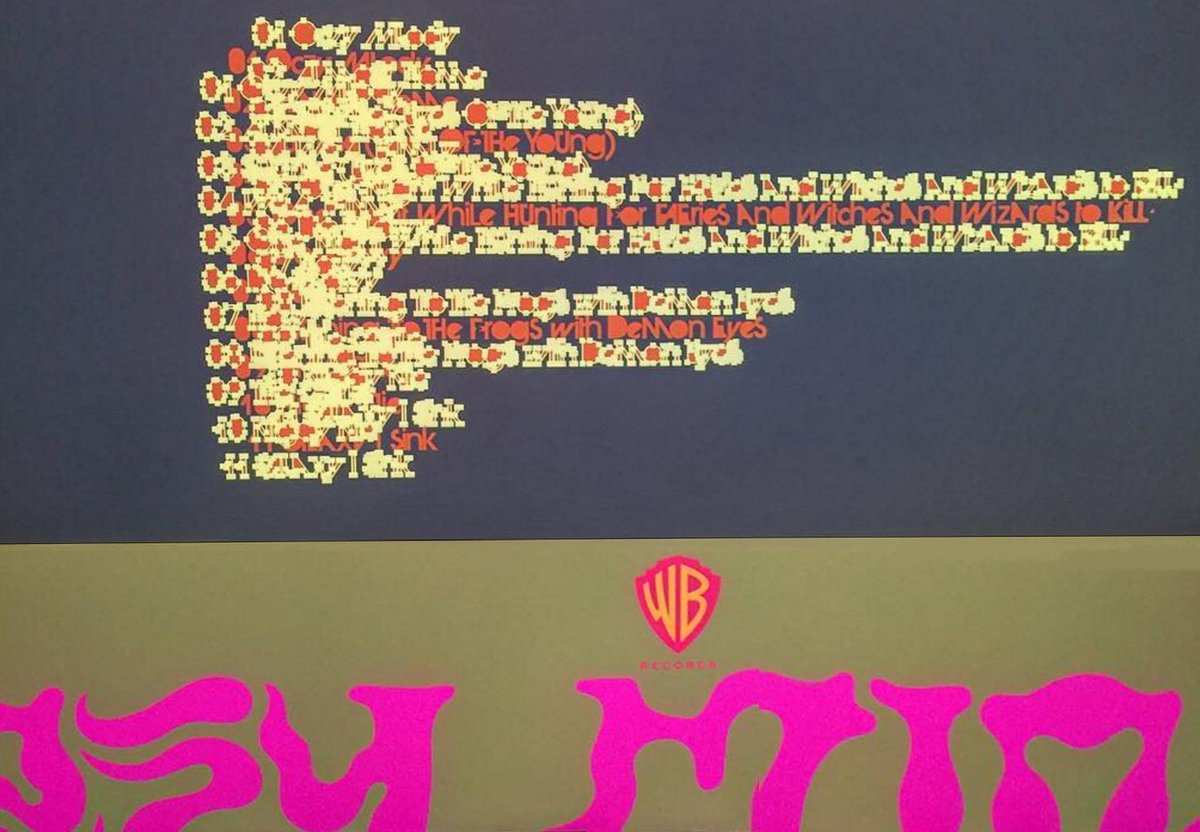 Obviously, most of that is completely illegible. But the image does confirm the presence of two songs, "One Night While Hunting For Fairies And Witches And Wizards To Kill" and "Listening To The Frogs With Demon Eyes," a song inspired by frogs that Coyne heard when walking his dog Dazey that's apparently been in the works since summer 2012.
Startin on a track called Listening To The Frogs..With Demon Eyes..Pink Floor.. http://t.co/B2uvZcM5

— Wayne Coyne (@waynecoyne) August 13, 2012
So…who's ready for a new Flaming Lips album?